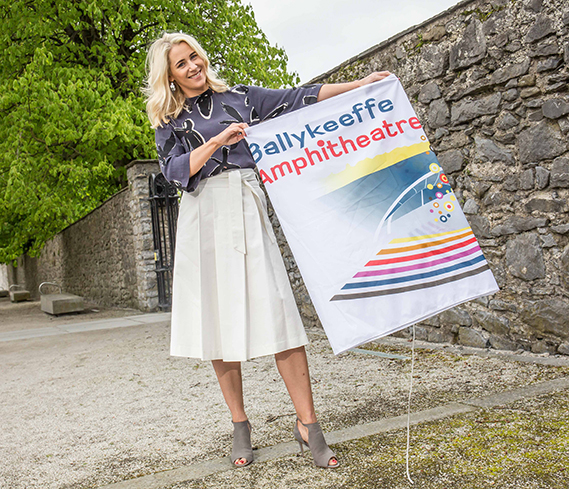 The award-winning Ballykeeffe Amphitheatre in Kilmanagh, Co. Kilkenny, has announced its unmissable programme of events for the upcoming summer season, officially launched by broadcaster Evanne Ní Chuilinn.
The legendary singer-songwriter Paul Brady will headline this year's programme in July, bringing his most-loved music spanning almost 50 years to the Ballykeeffe Amphitheatre stage.
Over the course of the season, Irish soprano and Kildare native Celine Byrne will serenade the
audience with her velvety vocals, while energetic five-piece HamsandwicH make their welcome
return to Ballykeeffe Amphitheatre. One of Ireland's rising stars, Monaghan's Marty Mone, will make his debut appearance at the venue.
The Amphitheatre will play host to critically-acclaimed brother duo Hudson Taylor in late summer, before the astounding Jack L rounds off the season with his instantly recognisable sound.
Children and families alike will be well catered for with a performance of Chapterhouse Theatre
Company's Little Women, as well as an open-air adaptation of Sinbad the Sailor by Off the Ground
Theatre Company.
Over €150,000 in funding from Kilkenny County Council and Kilkenny Leader Partnership has been
invested in upgrades to Ballykeeffe Amphitheatre for 2018. Works began at the venue earlier this
year, which will see the tiered limestone seating extended to facilitate approximately 1,000 people.
A dedicated wheelchair-accessible area has also been added, along with the installation of
wheelchair-accessible toilet facilities. It's been a busy year for the Amphitheatre, which was also recognised nationally with a Special Award at the Pride of Place Awards 2017.
Nestled at the foot of the old Ballykeeffe Quarry, Ballykeeffe Amphitheatre, which is run entirely by volunteers, brings the authentic atmosphere of an open-air Italian theatre to the quaint Kilkenny countryside.
Matt O'Sullivan, Chairman of Ballykeeffe Amphitheatre, said: "We're thrilled to be announcing
another stellar line-up at Ballykeeffe Amphitheatre for 2018, which is going from strength to strength each year. It's been a busy year at the Amphitheatre; thanks to Kilkenny County Council and Kilkenny Leader Partnership we have been able to carry out significant upgrade works throughout the venue, including an extended seating area and dedicated wheelchair-accessible facilities.
Continued thanks to our volunteers, sponsors and supporters who make it all possible year after year.
We're looking forward to welcoming everyone back to Ballykeeffe Amphitheatre this summer!"
Tickets are available from Eventbrite.ie and local outlets.