Harvest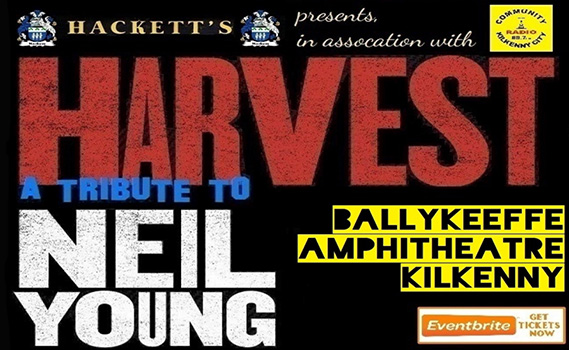 Sun 31st July: Harvest – A Tribute to Neil Young –Presented by Hacketts
Gates open: 7 pm
Showtime: 8 pm
Ticket price: €22.50
Bar facilities available on site
Harvest (a tribute to Neil Young) is an 8 piece band who have been thrilling audiences of Neil Young fans all over Ireland for over 12 years.
Formed in 2009, the band has played all over the country, selling out shows in Dublin (The Sugar Club, Unitarian Church), Belfast (The Black Box), Cork (Crane Lane Theatre), Dundalk (The Spirit Store) & Kilkenny (Hackett's Bar) year after year.
The band performed arguably Neil Young's greatest album "Harvest" in full at Vicar Street in Dublin in 2018, and played at the Electric Picnic arts festival from 2013 to 2019, and have been invited back once again in 2022.
A typical Harvest show includes passionate performances of favourites such as "Heart of Gold", "Old Man", "Out On The Weekend", "Harvest Moon", "The Needle And The Damage Done" and incendiary versions of "Rockin' In The Free World", "Cortez The Killer", "Down By The River", "Cinnamon Girl" and "Like A Hurricane", to name but a few.
If you like Neil Young, you will love Harvest.