Details:
Name
Presented By Ballykeeffe Amphitheatre
Phone
087 626 1134
Category
2017 Events
HamsandwicH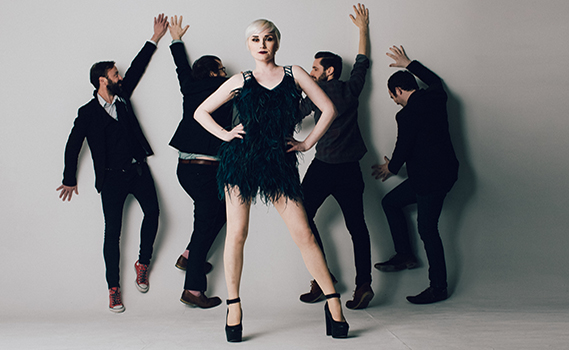 BallyKeeffe Amphitheatre
One of Ireland's most enthralling live acts in recent times, HamsandwicH are well known for their incendiary live performances which has established them as one of the top touring acts in the country.
Featuring their signature calling card of Niamh Farrell's powerful yet sweet vocal and Podge McNamee's juxtaposing baritone, if ever there was a band to feed off their audience it is HamsandwicH; melodic, hook-laden, and heart-warmingly charming. Their most recent album "Stories From The Surface" debuted straight in at Number 1 and in the official album chart, while its predecessor "White Fox" featured in Irish Times' writer Tony Clayton-Lea's acclaimed book '101 Irish Records You Must Hear Before You Die', describing it as a "masterclass in quality indie pop."
Having sold out Dublin's prestigious Olympia Theatre twice, supported Arcade Fire and The Pixies, played on the main stage at both the Electric Picnic and Longitude Festivals, performing at the legendary Slane Castle with Bon Jovi, been personally invited by Mumford & Sons to support them in Phoenix Park, to selling out their legendary acoustic show Dublin's Christchurch Cathedral on the day tickets went on-sale, HamsandwicH continue to thrive having established themselves in the upper-echelon of must-see acts!
"There isn't a duff tune here, which makes it that very rare thing: an album you can listen to all the way through without being tempted to press fast-forward"TONY CLAYTON-LEA – Hamsandwich "White Fox"Album Review Irish Times
HamsandwicH perform in the Ballykeeffe Amphitheatre on Saturday the 19th of August
Ticket Prices: €20
Gates Open: 7:00pm
---
TICKETS FOR ALL EVENTS HELD IN BALLYKEEFFE AMPHITHEATRE ARE AVAILABLE AT:
Kilkenny Book Centre (056 7762117)
Rollercoaster Records (056 7763669)
O'Connor's Kilmanagh (056 7769240)
A LIMITED NUMBER OF TICKETS ARE ALSO AVAILABLE ON THE NIGHT AT BALLYKEEFFE AMPHITHEATRE